Another fantastic advert for the club with circa 110 members taking part in this Hastings Runners event, whether as runners or marshals, in the stunning setting of Hastings Country Park at Fairlight.
For the majority of the field the 10.30 kms course over 2.66 laps proved a real stamina sapping test in sweltering conditions with over 220 metres of elevation, but new club member Matt Draper made light work of the conditions to go second on the club's all time list with a superb time of 41.06.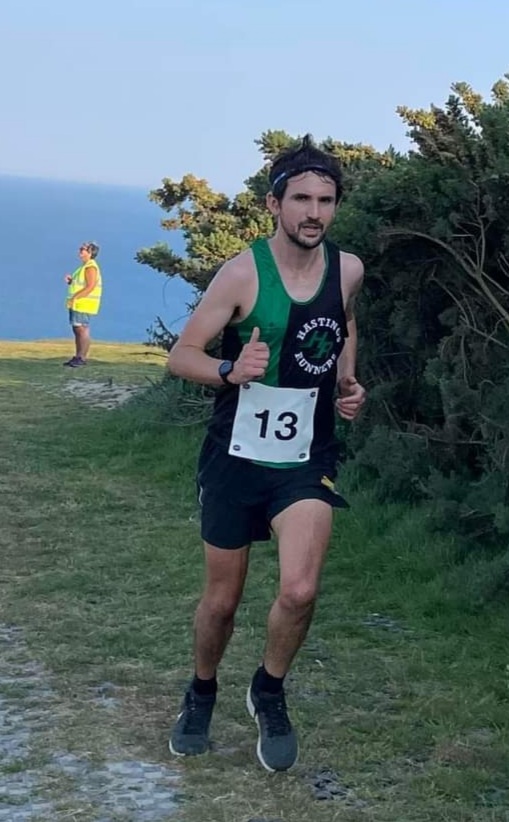 Runner up for the third successive year, despite running 76 seconds faster than last year,  was Ashley Vora in 42.21, with Stuart Johnstone 3rd in 46.26. Another recent club recruit Fleur Record-Smith claimed the women's trophy, overhauling the long time leader Claire Thomas in the final kilometre and finishing 22 seconds clear in 51.21, with Amanda Link 3rd lady home in 54.29. An excellent 4th place in a time of 46.43 saw Darren Barzee take the men's vets award, with Sally Grainger taking the women's equivalent in a time of 58.56.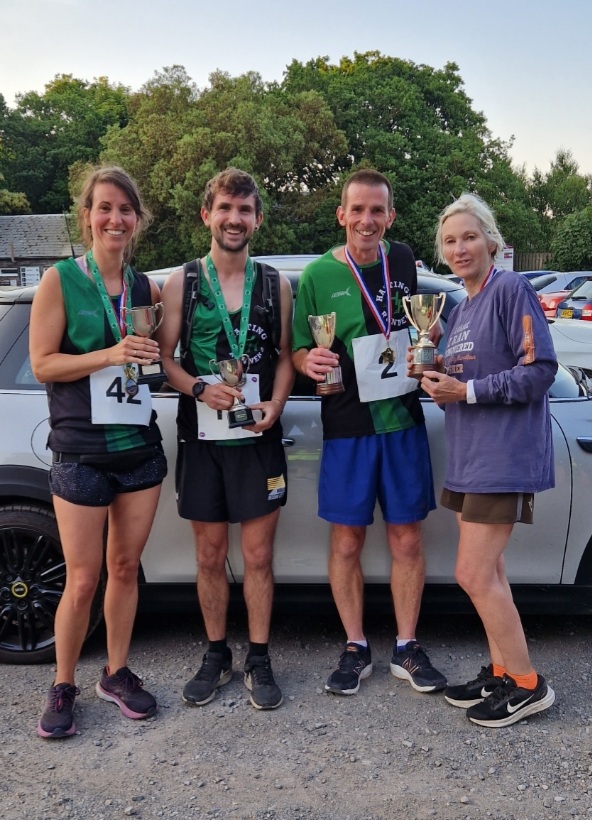 No fewer than 11 runners who had contested the race in 2022 managed to improve their race times, with Simon Linklater deservedly taking the Improvers Award with a huge improvement of 5 mins 43 seconds.
The club welcomed 10 new runners taking part in their first HR race, namely Matt Draper, Fleur Record-Smith, Chris Brandt, Mark Rodrigues, Dave Morrow, Scott Thirkettle, Dave Turner, Oli Kellett, George Marshall and Peter Harding. After the race, Christopher White and Tracy Ratnarajah were presented with their Improver Awards for the club's Spring 5kms and Hastings 5 mile races, whilst Lewis Betts received the 5 mile junior male trophy for the second successive year.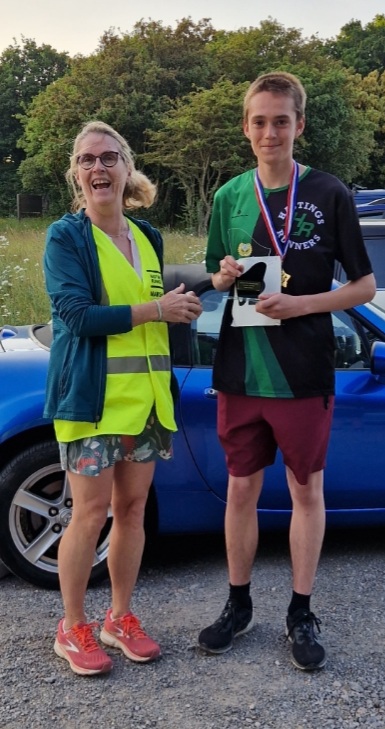 67 runners completed the course, with 40 marshals – expertly co-ordinated by Alan Croucher – giving up their time. Just two runners failed to complete the race including Shana Burchett who, pushing hard for a course pb, became airborne going through the final downhill woodland section and sustained a nasty cut on her left knee.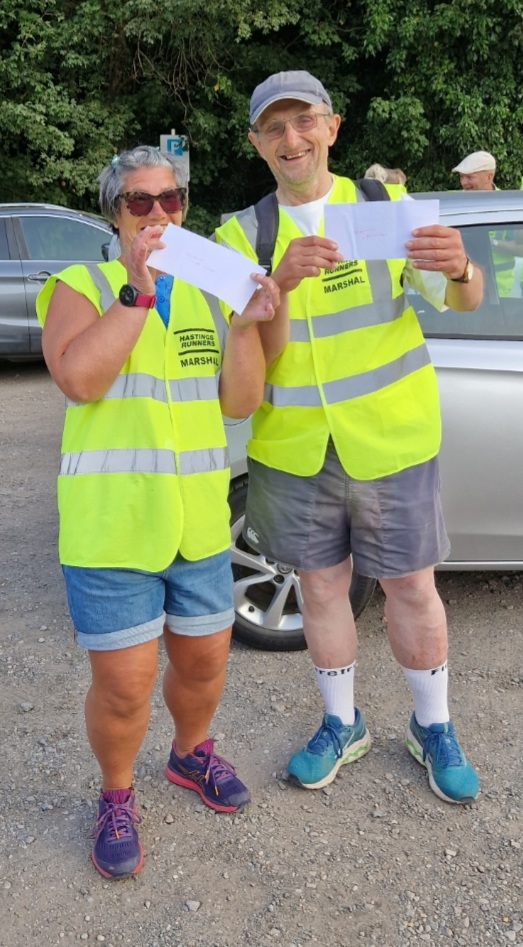 After hobbling back to the start line, this was expertly patched up by run director and former GP Susan Rae which has left the club's first aid kit bereft of giant plasters now! Many thanks to Susan and fellow RD Piers Brunning for overseeing proceedings, and to Wisdens for handing out race medals.
Race times were:Matt Draper 41:06; Ashley Vora 42:21; Stuart Johnstone 46:26; Darren Barzee 46:43; Martin Noakes 47:10; Patrick Bermingham  47:43; Simon Linklater 47:44; Sam Evans 48:03 16; Chris Brandt 48:13; Dave Turner 48:19; Martin Snape 50:28; Graeme Grass  50:55; Fleur Record-Smith 51.21; George Marshall:51:24; Lewis Betts 51:31; Claire Thomas 51:43; Steven Stanley 52:01; Neil Jeffries 52:16; Matthew Miller 52:44; Kevin Blowers 53:32; Amanda Link  54:29; Oli Kellett 54:43; Kevin Davis 54:59; Ben Sallows 55:02; Mark Storey 55:10; Dan Hall 55:19; Simon Trevena  55:49; Malcolm Smith 57:37; Jo Lambourne 57:46; Sally Grainger 58:56; Lawrence Bell 59:32; Sarah Bendle 59:49; Dean Betts 59.51; Simon Weatherley 60.15; Sean Dwyer 60.32; Rob Thomas 60.42; Jessica Cull 61.16;  Adrian Barratt 61:54; Bill Edmondson 62:13; David Witcombe 62:38; Dave Morrow 62:54; Scott Thirkettle 63:34; Annette Fry  64:17; Ruth Spiller 65:01; Keith Goodsell 65:04; Kate Lewis 65:59; Nigel Thornely 66:02; Susan Wilkinson 68:27; Deanne Smith 70:00; Danny Ratnarajah 70.00; Mark Rodrigues 70:44; Sarah Marzaioli 71:43; Sarah Loring 71:50; Tony Skinner 72:49; Tracy Ratnarajah 73:00; Chris White 73:41; Jackie Scott 74:34; Louise Cavill 74:34; Lauren Coleman 75:33; Sue Palmer 75:41; Samantha Welfare 78:32; Krista Barzee  78:32; Peter Harding 82:12; Susan Mann 85:30; Davinia Hill 89:01; Erica Wilson 92:10; Corrina Skinner (sweep) 92.11.