Best Awards Night Ever? I'm sure everyone in attendance can agree on that.  A few thank yous. Mr.Norris & Nick Webb, thank you for organising the event and choosing such an amazing band (so good).
Thank you to Nick Brown, Susan Mann and Andy Lee for awarding the trophies.  Thank you to Andy Knight for presenting the evening in such a professional manner (wasted talent).
Congratulations to everyone who won an award. You are all amazing and truly inspiring.
RUNNERS WHO COMPLETED 5 OR MORE CHAMPIONSHIP RACES DURING 2021.
Sarah Marzaioli
Henry Worthington
Sarah Bendle
Nigel Thornely
Shana Burchett
Simon Linklater
Irene Kitson
Simon Weatherley
Jan Young
Paul Burchett
Jacqueline Scott
Louise Weatherley
Terry Kitson
Bill Edmondson
Susan Rae
Keiran Price
Nikki Steed
Neil Jeffries
Marie Crawford
David Harding
Krista Barzee
Robert Gagyi
Manami Cheves
Kevin Blowers
Claire Thomas
Darren Barzee
David Bratby
Will Withecombe
Charles Bowley
Marie Appleton
Patrick Bermingham
Ellie Swaine
John Simcox
Catherine Southgate
Martin Noakes
Ruth Spiller
Mike Ellis
Sue Palmer
Ben Sallows
Michelle Krombolz
Keith Goodsell
Michael Norris
Andy Knight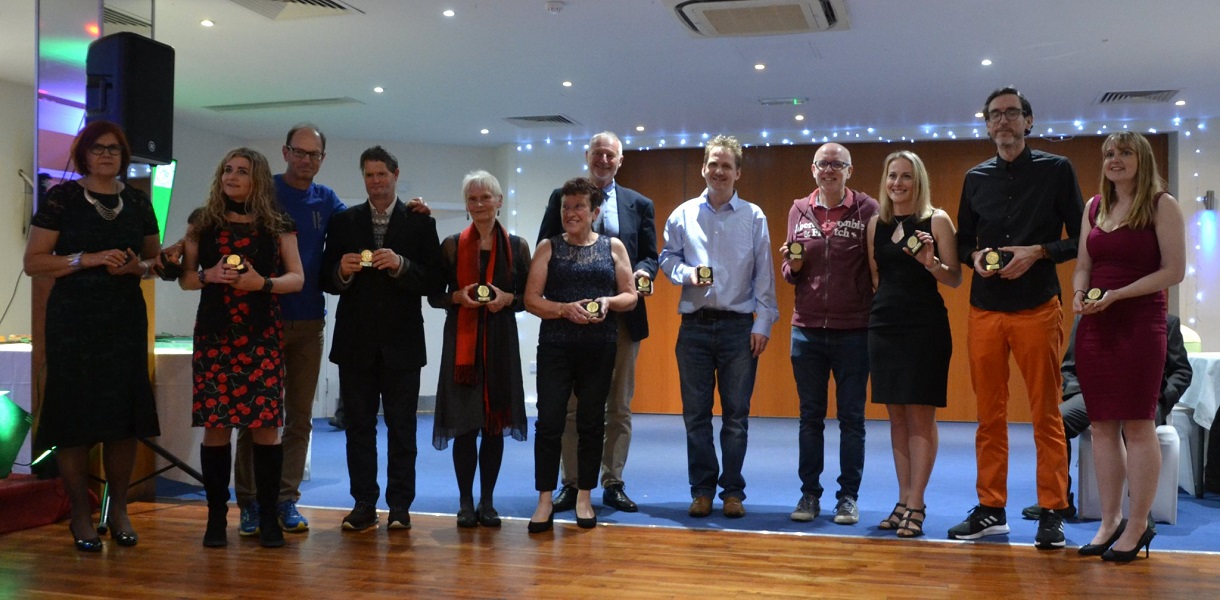 AGE CATEGORY WINNERS FOR THE FIRST PAST THE POST WITHIN THE CLUB CHAMPIONSHIP.
LADIES
Senior Female:   Nikki Steed
Female Vet 1/35: Claire Thomas
Female Vet 2/40: Sarah Bendle
Female Vet 3/45: Marie Crawford
Female Vet 4/50: Sue Wilkinson
Female Vet 5/55: Manami Cheves
Female Vet 6/60: Susan Rae
Female Vet 7/65: Irene Kitson
Female Vet 8/70: Sarah Marzaioli
Female Vet 9/75: Christine Sanderson
MEN
Senior Male:  Will Withecombe
Male Vet 1/40: Simon Linklater
Male Vet 2/45: Kieran Price
Male Vet 3/50: Darren Barzee
Male Vet 4/55: Kevin Blowers
Male Vet 5/60:  Neil Jeffries
Male Vet 6/65:  Terry Kitson
Male Vet 7/70:  Mike Ellis
OVERALL WINNERS FOR THE CLUB CHAMPIONSHIPS FIRST PAST THE POST.
LADIES
1st Claire Thomas
2nd Susan Rae
3rd Nikki Steed
MEN
1st Will Withecombe
2nd Darren Barzee
3rd Kieran Price
MERIT AWARDS (CHOSEN BY THE COACHES FOR A VARIETY OF REASONS)
Pete Heasman and Jacqui Mannering
These two people are amongst the club's leading ultra runners. At the beginning of 2021 they signed up for the Centurion 50 Mile Grand Slam which is a series of four 50 mile trail ultra marathons. The first in the series was the South Downs Way 50 in April and they ran from Worthing over the downs into Eastbourne only to find that the course was slightly short, so having received their medals they then ran 3 laps of the track in Hampden Park to make up the full distance. Not content with 4 Grand Slams in a year they also, between them, completed the 100k Serpent Trail on the South Downs, the Thames Path 100 miler from Richmond to Oxford and the Gatliff 50k.
Claire Thomas
A lady who enjoyed a steller year in the ladies club championship finishing unbeaten in the 8 races that she contested, including wins in the Woodchurch 5 mile and the Barry Richards 10k. Across the year she achieved PB's at Parkrun, 5k, 5 miles and 10k but her greatest qualities are her relentless cheerfulness and her support for all club colleagues and activities.
Nikki Steed
It's been a real breakthough year for this lady who's achieved PB's at 5k, 10k, and half marathon race distances including fine runs in the Rye 5k, the club Winter 5k and the Hastings Seafront 10k but her best result was being first lady in the Alan Corke race. She's recently done the London Landmarks Half Marathon raising £700 for the British Heart Foundation in memory of her Dad.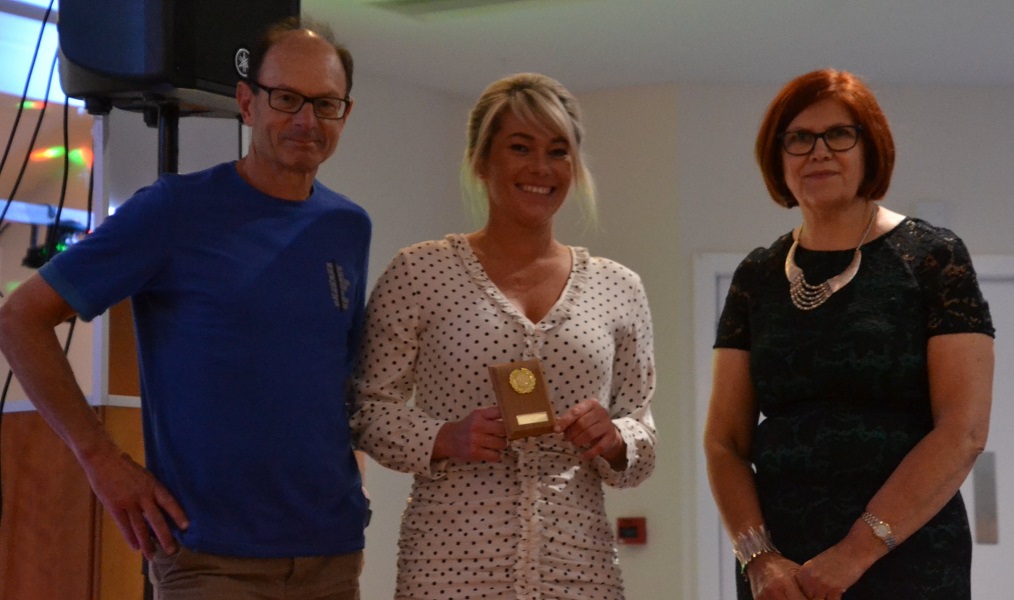 Kieran Price
This very modest man had a breakthrough year in 2021 producing PB's at parkrun, 5k, 10k, 10 miles and half marathon distances. He finished a close 3rd in the club championship and he was the first club runner home in the Romney Marsh 10k.
Kevin Blowers
This man has clocked up PB's at all distances and made an excellent marathon debut of 3 hours 43 minutes. He recently turned 60 and the older he gets the quicker he gets, recently he got a parkrun PB of 19 mins 3 secs. He's probably more notable however for his ready wisecracks and also his baking skills as demonstrated with the cakes he brought along to the Sunday Cross Country events.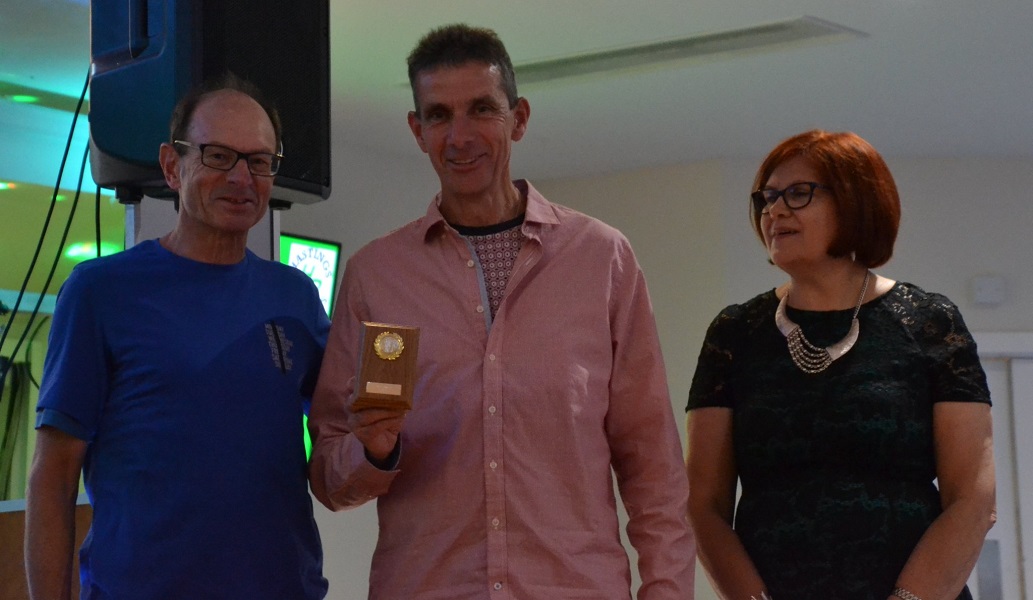 Charles Bowley
This man is a relatively new club member who's quickly made his mark with his enthusiasm for racing almost weekly and his friendly engaging character. He flew the flag for Hastings Runners last year at the Canterbury and Tonbridge Half Marathons, the Bewl 15, North Downs Way 30k and the Lydd 20 mile. He's even recently shown off his photographic skills by being the official photographer at parkrun.
Louise and Simon Weatherley
Our final merit award goes to two members who's infectious enthusiasm for a range of club activities marks them out. HE managed PB's right across all distances in 2021 and SHE, despite a number of injury setbacks during the year still managed to take part in 9 club championship races finishing as 2nd senior lady.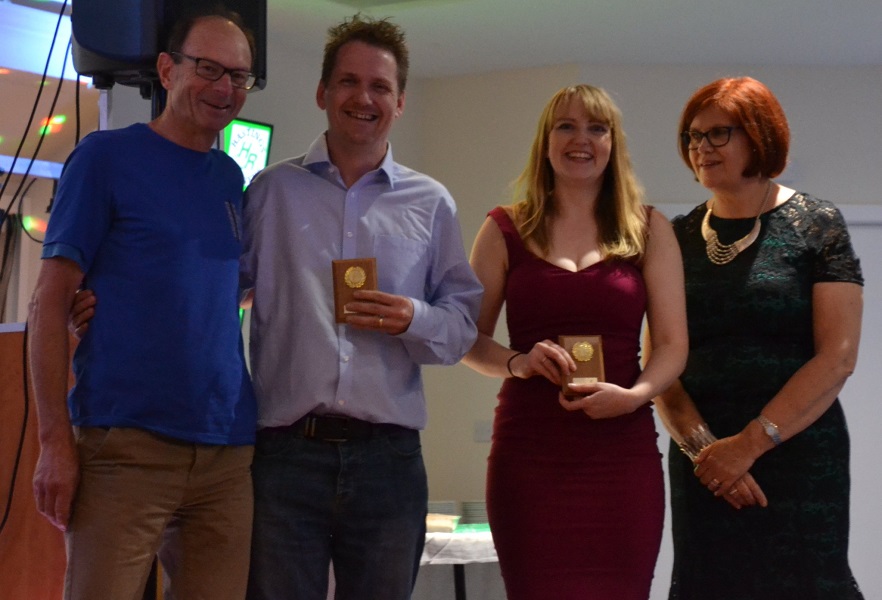 ACHIEVER AWARDS (VOTED FOR BY THE COACHES)
Male – Will Withecombe
He's achieved so much during the past 15 months and is a relative newcomer to the club. He announced himself with a fine win in the Alan Corke race, finished a close second to Jack Madden in the Barry Richards 10k and won the Club Winter 5k. He also celebrated first place in many other races including the Woodchurch 5 mile and the Hastings 10k, plus he had a successful Cross Country season finishing 2nd male in the East Sussex Cross Country League. He's a regular parkrunner and has clocked up wins at 5 different venues including Hastings where he has a PB of 16'05".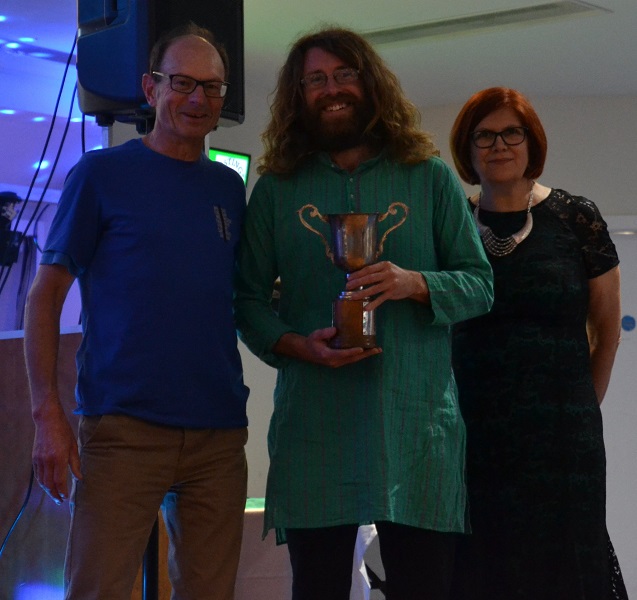 Female – Sarah Marzaioli
This is someone who's a club legend. She's completed over 100 marathons despite not taking up running until her early 50's. Her remarkable journey has taken her all around the world running marathons in Vancouver, Rome, Paris, Istanbul and New York. She's even done some ultras including the 65 miles from London to Brighton. After numerous age category wins in events such as the Hampton Court and Tonbridge half marathon's, and the Lydd 20 miler she was invited to take part in the London Marathon as part of the Abbott World Marathon Majors series. Just two weeks later she posted a time of 4 hours 37 minutes in the Yorkshire Marathon winning her age group in what was the British Masters marathon championship event. This put her 10th in her age group for the UK Athletics rankings in 2021. She's just started a new 2 year challenge to raise more money for the RNLI, a charity which is close to her heart. It started with the Guernsey Marathon on 3rd April and will end with the London Marathon in 2024.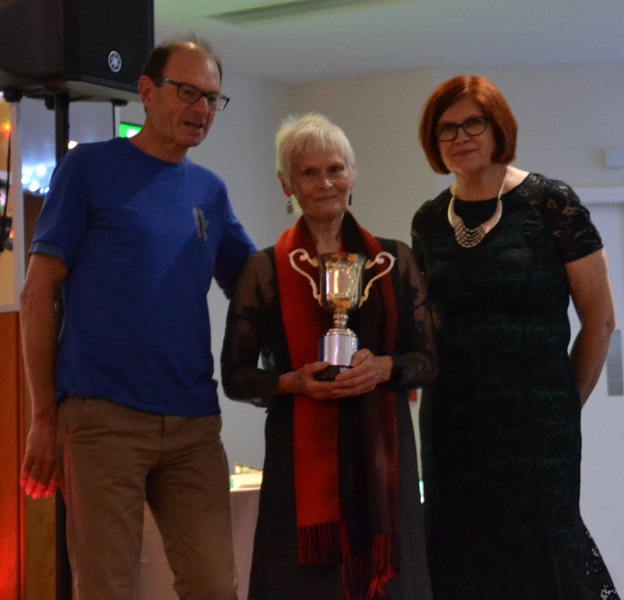 Grijsloke Trophy – Jill Green
This trophy was donated to us by the running club in Belgium which has had a special connection with Hastings Runners for many years. Although unfortunately the Grijsloke races have not been held for a couple of years it was never-the-less thought appropriate to recognise a lady who's been a staunch supporter and facilitator of the exchange since the early days. She doesn't run now but she's a fantastic supporter of the club and marshall's at many events.
Cross Country Award – Trish Audis
The Cross Country Award is chosen by our cross country captain David Bratby. We had another excellent Cross Country season and the recipient of this award finished 2nd in her age category for the season.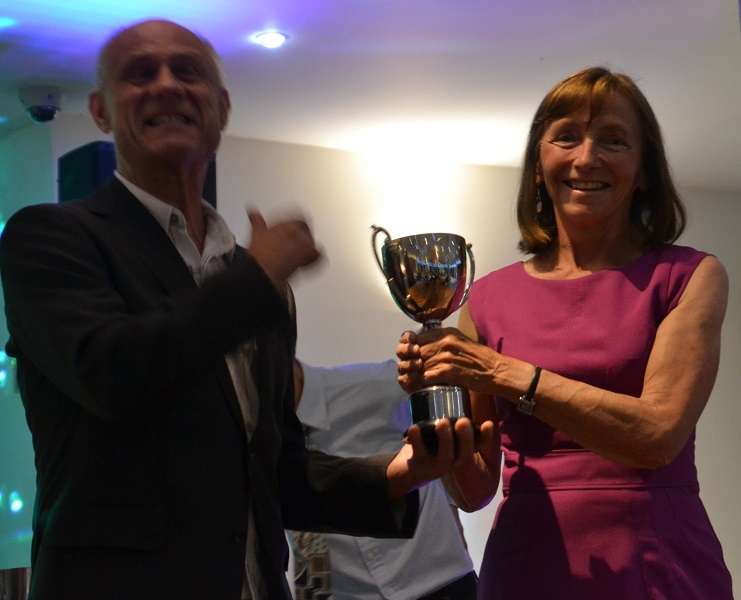 Coach Of The Year – Nick Brown
This award is voted for by club members. This year's winner is someone who's put in a lot of hard work to help colleagues develop their running skills. He's the mastermind behind the weekly track sessions which have developed into a strong facet of the club's activities.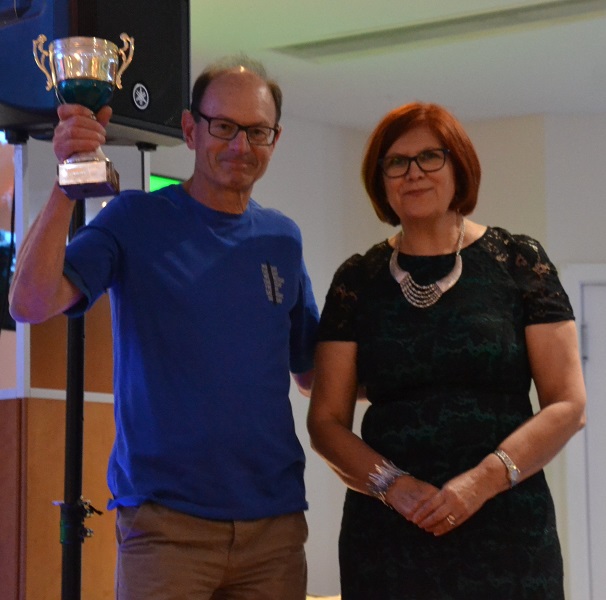 Marshall's Trophy – Alan Croucher
This new trophy goes to a man who's careful and detailed planning is essential to the successful and safe running of our club races. (In future years it will be Alan who decides the winner, someone who's made a valued contribution to the club races)
Special Award – Marie Crawford
A lovely bouquet of flowers was presented as a special thank you for someone who provided thoughtful advice on the management of Covid and patiently and diligently maintained records of club sessions to provide for our track and trace obligations. She's also a leading light at track on a Monday and has just taken over the organisation of the Club Championship points.
Special Recognition Award–Eric Hardwick MBE
Hastings Runners wanted to recognise him for all his hard work and the amazing achievement of being Race Director of the Hastings Half Marathon for the past 38 years and the race in March this year was his last one in the role. He's a great golf lover, so we have arranged an overnight stay for two people at the Dale Hill Hotel and Golf Club in Ticehurst.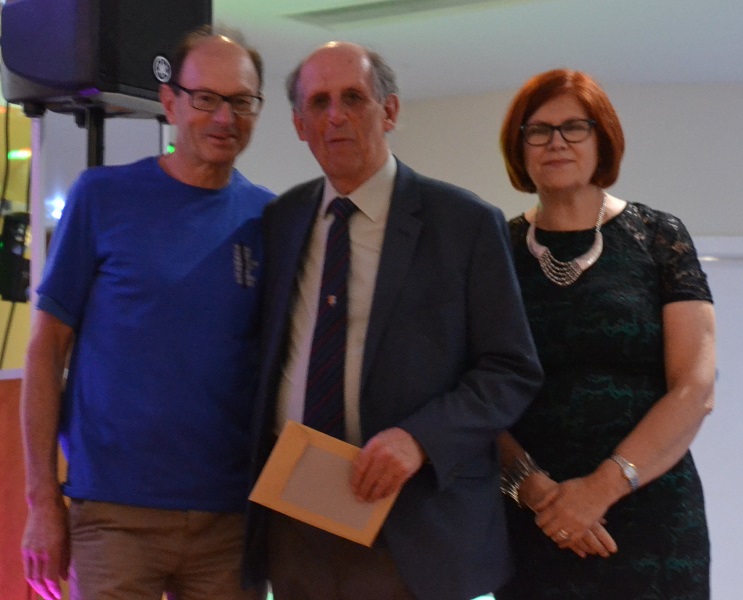 Special Award – Matt Edmonds
Eric Hardwick purchased this trophy himself to present to Matt in recognition of a great achievement at the half marathon this year. He was the first local runner and was the highest placed member of Hastings Runners for many years finishing in 4th place.
The next 2 awards have been nominated by our members, and ultimately chosen by the Committee.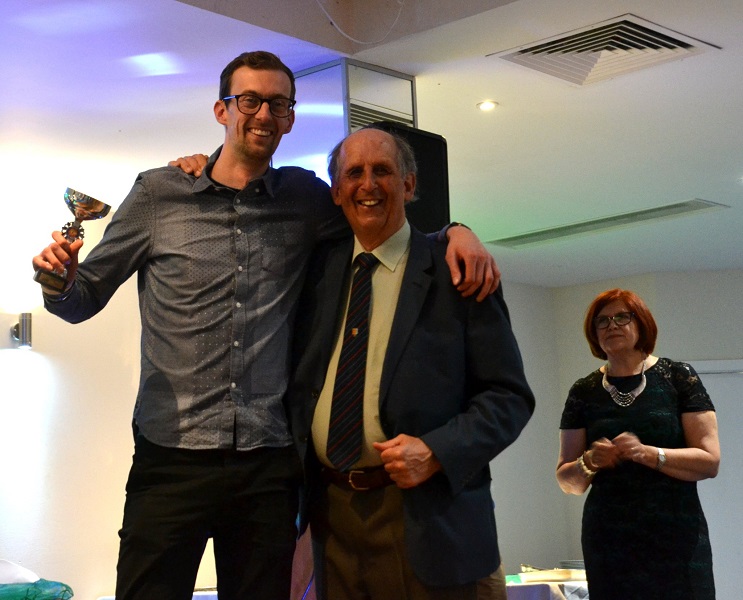 Wilf Gaye Memorial Trophy – Jessica Cull
This year's deserving winner lost her husband and was left on her own to bring up two young children Oliver and Ellie, she took on the London Marathon last October running in memory of Richard and she raised £5000 for St Michael's Hospice who took care of him. .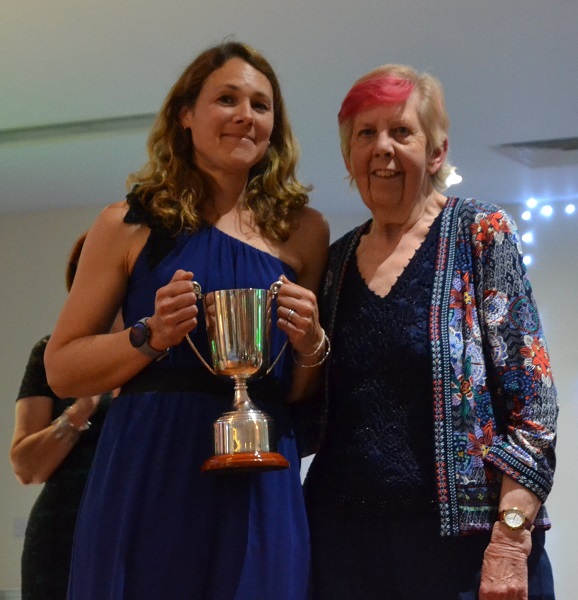 Endeavour Trophy – Simon Linklater and Kevin Blowers
This trophy was provided by Peter Cocker and this year we have joint winners. Both of these guys are very active in the club. Simon has put in some fine running performances in the last year but he's also made a major contribution to the club's profile through his excellent and numerous contributions to the Hastings Observer plus looking after our website. Meanwhile Kevin Blowers just goes from strength to strength, his achievements were acknowledged when he won his merit award earlier and this is another award to add to his tally.
This next award is awarded by the Executive Committee to a member who they feel has made a most significant contribution to the club.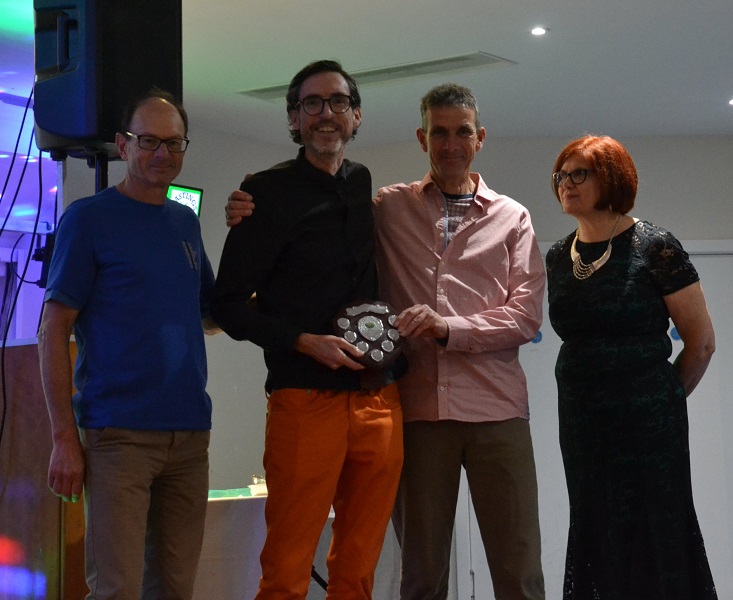 Founders Trophy – Mary Chantler and Vic Froehlke
This couple no longer run but are still strong supporters of the club and they're still part of the walking group. Importantly however, these colleagues worked for several years behind the scenes to help put on our flagship event, the Hastings 5 Mile Race which has raised over £56,000 for St Michael's Hospice since it started 15 years ago.