Hastings Runners' Zoe Fairclough posted a superb victory as first lady finisher in the Rye 10 miler, a gruelling Sussex Grand Prix as well as club championship event held in very warm conditions on Sunday morning. Zoe, who was a close 2nd in this race last year behind clubmate Yolanda King, took the lead after 8 miles and finished 34 seconds clear of the runner up in an excellent time of 69.29.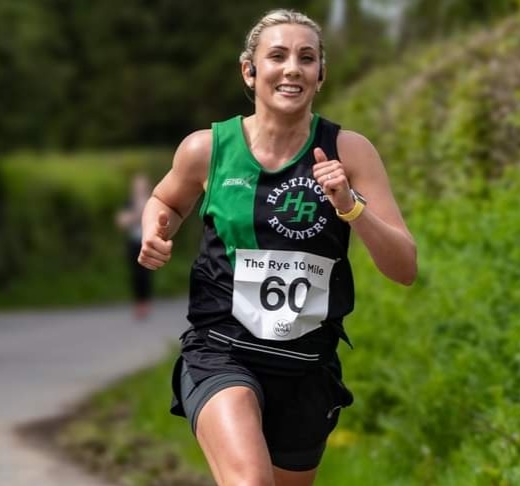 Adam Weller was the first club member home, finishing 7th in a cracking time of 65.30, with Steve Stanley doing well to pick up the M60 age category award. The scenic course starting from Jempsons Superstore in Peasmarsh took in the undulating lanes between Peasmarsh and Beckley, and attracted a field of 206 runners including a huge contingent of 50 Hastings Runners.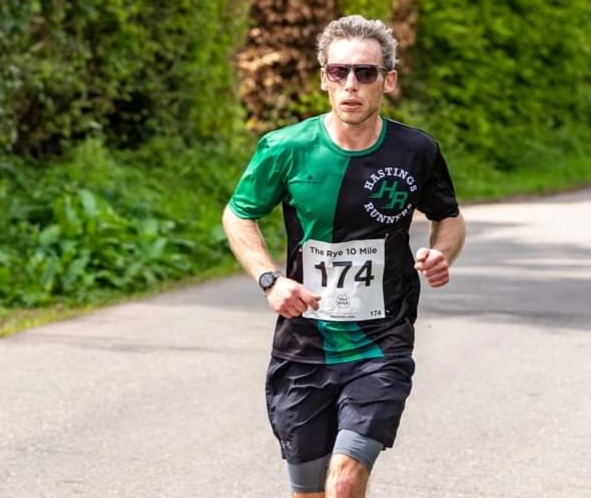 Hastings Runners' results were: Adam Weller 01:05:30; Stuart Johnstone 01:08:48; Darren Barzee 01:08:56; Zoe Fairclough 01:09:29; Ashley Vora 01:10:53; Paul Burchett 01:12:36; Simon Linklater 01:12:53; Steven Stanley 01:15:36; Neil Jeffries 01:16:07; Joe Cruttenden 01:16:25; Graeme Grass 01:17:36; Andy Knight 01:19:09; John Simcox 01:19:48; Michael Norris 01:20:34; Matthew Miller 01:21:33; Adrian Barratt 01:21:42; Mark Storey 01:22:15; Kevin Davis 01:23:19; Charles Bowley 01:23:51; Tamsin West 01:26:25; Nick Webb 01:28:13; Trevor Briggs 01:28:55; Roland Baines 01:30:00; David Fairclough 01:30:58; Jon Smalldon 01:32:53; Keith Goodsell 01:32:57; Ruth Spiller 01:34:26; Jo French 01:36:50; Jess Hayward 01:37:26; Robert Dennis 01:37:33; Simon Weatherley 01:38:46; Marie Appleton 01:40:37; Craig Weeks 01:42:15; Mark Rodrigues 01:42:26;  Susan Wilkinson 01:42:40; Marie Crawford 01:42:47; Kelly Derosa 01:44:21; Kate Lewis 01:44:51; Sarah Marzaioli 01:45:15; Tracy Ratnarajah 01:46:43; Susan Sparkes 01:49:11; Yockie Richardson 01:50:21; Kayla Quinnell 01:51:34; Krista Barzee 01:57:16;  Adam Holland 02:02:38; Susan Mann 02:03:07; Lorraine Ashby 02:05:03; Louise Cavill 02:09:33; Amanda Robinson 02:15:46; Erica Wilson 02:17:25.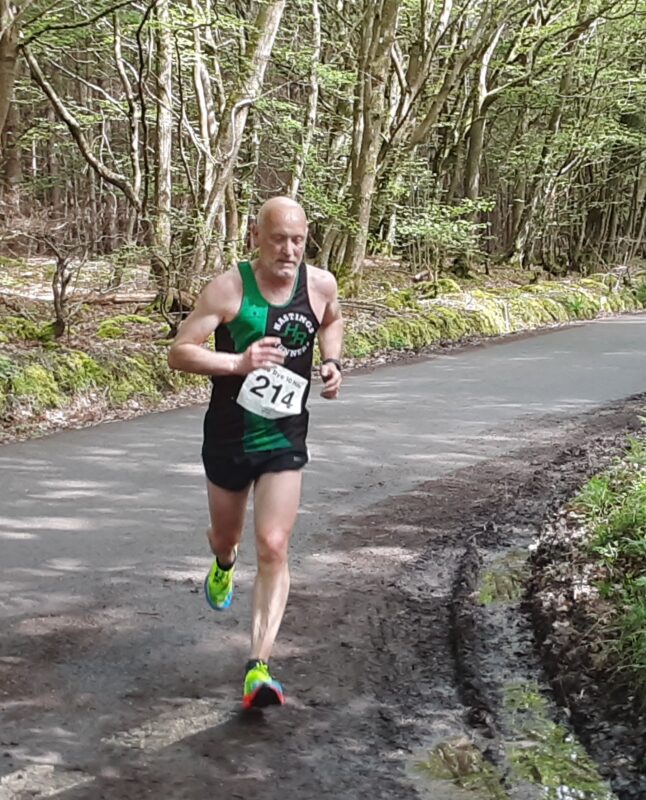 Meanwhile 6 club members tackled the Rye 5 mile event – Debra Van Aalst 48.30 (1st F60); Jackie Scott 49.48; Jo Nevett 51.58; Danny Ratnarajah 52.01; Shana Burchett 55.17; Joanne Fellows 62.42.
Many congrats also to Yolanda King who won the recent Haywards Heath 10 mile race, another Sussex Grand Prix event with a field of over 400 runners, in a very impressive time of 67.11.
Zoe Fairclough (courtesy Nice Work)
Adam Weller (courtesy Nice Work)